Living Room
| | |
| --- | --- |
| Dimensions | 9.09 x 3.25 x 3 m (29.82 x 10.66 x 10 ft) |
| Area | 26.1 sq. m (281 sq. ft) |
| Colour | CIL French Grape |
| Windows | 2 - 1.2 x 1.8 m, 1 - 0.6 x 1.8 m, 1 - 0.6 x 1.8 m (casement with a screen), 1 - 0.9 x 1.8 m (casement with a screen) |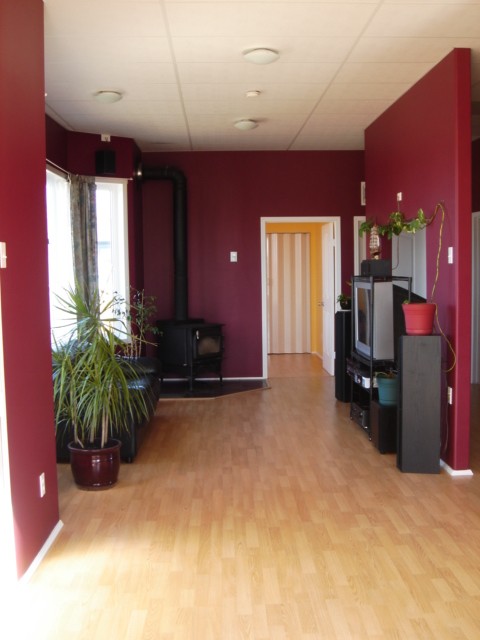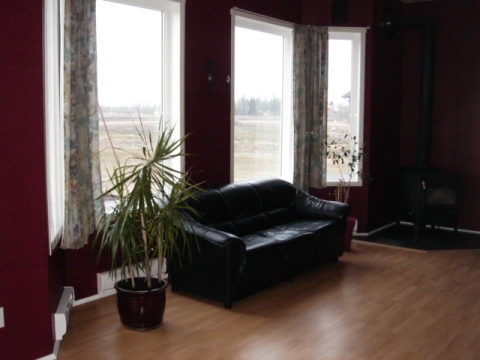 The gorgeous living room with an entertainment center and a wood stove.
The opening in the wall may be used for building in a big flat screen TV.
The room is wired for Dolby Digital Surround Sound system and has high quality audio outlets for the center, front left/right and rare left/right speakers. Subwoofer is connected directly to the digital receiver.
The wood stove is very efficient and may be used for heating the entire house. One load of logs on low fire can burn almost 12 hours. It has built-in fan that will automatically activates when the stove reaches the certain temperature. The fan helps in circulating the warm air in the house. Please see Appliances for more information on the wood stove.