Ventilation and Air Filtration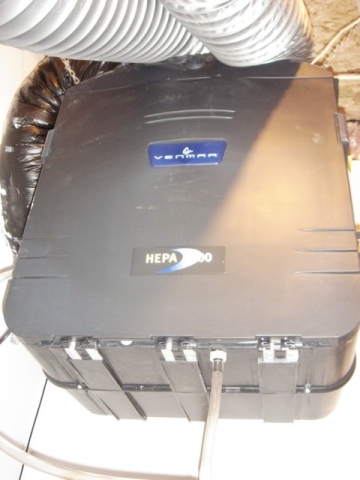 The links below show HVAC plans for each floor of the house.
Ventilation and Air Filtration System
All house ventilation and air filtration system Venmar HEPA 3000
The system is suspended in the utility room and desinged for houses of up to 3000 sq. feet. It exchanges, filters and if necessary heats the air at 70 cfm in normal mode and at 105 cfm in boost mode.
A quote from the Venmar web site:
In addition to providing excess humidity control and heat recovery functions, it can also help reduce symptoms of respiratory ailments and allergies, thanks to its remarkable HEPA filter, which captures 99.97% of all dust and particles even those as small as 0.3 micron ( 1 human hair = 150 microns).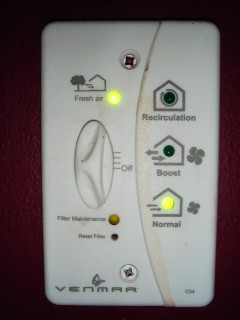 Venmar remote panel
The remote panel is located in the hall. It has three modes:
Normal
Boost
Recirculation
The last one, recirculation, doesn't intake fresh air from outside and is primarily used during very cold winter temperatures. The filter maintenance indicator shows when it is time to replace filters. If the ventilation system is constantly running, then the pre-filter is usually replaced every 6 months and the main HEPA filter every year. The filters are available from The Home Depot and possible from other places. After the filter is replaced, press the Reset Filter button using a pin.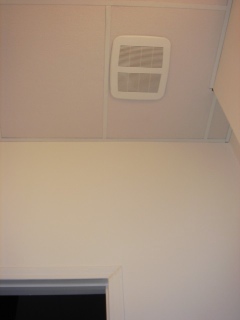 All rooms have ventilation registers built into the ceiling.
In the master bathroom there is NuTone 110 cfm fan and in two other bathrooms - 80 cfm fans. They are all super quiet models, 1.0 sone. One of them is shown on the picture below.
In the kitchen there is a Broan range hood fan vented outside that has 220 cfm and 1.5 sone when in high speed mode. It has two dish washer washable filters and two halogen 40W bulbs with low/high control switch.