Utility Room
| | |
| --- | --- |
| Dimensions | 3.2 x 1.85 x 3 m (10.5 x 6.07 x 10 ft) |
| Area | 5.92 sq. m (64 sq. ft) |
| Colour | White |
| Windows | |
Utility room replaces the basement and is the place where most electric, water, ventilation and air filtration systems are.
Water system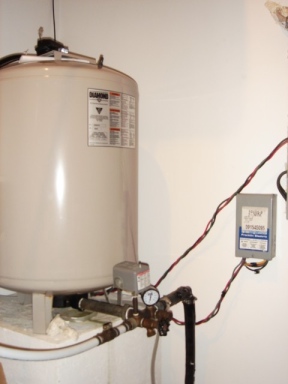 Pressure tank
Water is pumped from a well into a pressure tank. The tank is pre-charged to 38 psi that provides drawdown of 9.3 gallons of water at 40 to 60 psi meaning that when water pressure drops below 40 psi, the well water pump automatically turns on and when pressure reaches 60 psi, the pump turns off. Another words, the pump is activated every 9.3 gallons of water used to restore the necessary pressure in the system.
Water softener
From the pressure tank, domestic water goes into the Culligan Gold series water softener that removes most minerals from water. The 10" resin cylinder periodically regenerates itself by automatically flushing the cylinder with NaCl solution at night. The softener comes with Soft Minder meter option that monitors daily water use and activates regeneration only when needed, saving salt and water.
Garden and garage water bypasses the water softener.
The water softener requires little maintenance. Primarily it needs a bag of NaCl salt every two months or so.
More information on Culligan water softeners can be obtained from the Culligan website.
Drinking water undergoes further treatment with reverse osmosis filtration under the kitchen sink. See Plumbing for more informatioin.
Tankless water heater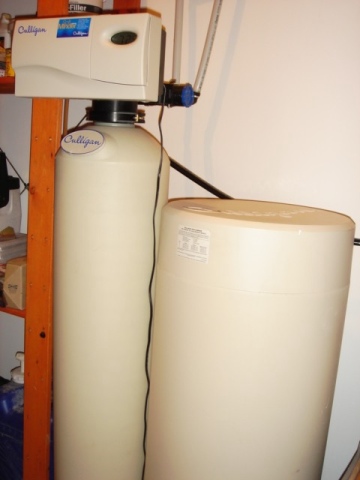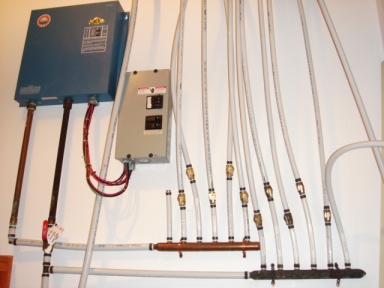 It is also known as an instanteneous water heater. Either term stands for more efficient hot water production. Here are its pros:
With no tank, there is no stand-by loses. It only heats the amount of water that we consume, not a pint more
It never runs out of hot water
A water temperature can be set just right, so no cold water is required to mix with
When the water temperature is limited and set to warm, there is no risk of getting burned
The electric tankless water heaters are less expensive than gas ones and it is much easier to install them.
The unit was made by S.E.T.S., model 240 - the whole house water heater, 24 kW, and therefore, it has a separate sub-panel with three 40 amp dual pole breakers as it requires 240 volt. This subpanel is protected by the 100 amp dual pole breaker in the main panel.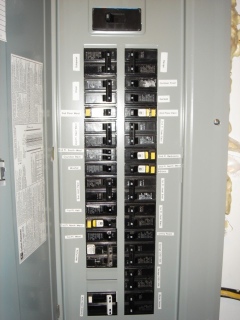 Electric System
Main electric panel
The main 40-breaker electric panel is shown here. There are also two subpanels: one is for the tankless water heater as you can see on the picture above and the other one is in the kitchen.
As the house is all electric, this is 200 amp service panel. All breakers are clearly labeled.
You can see that all five bedrooms have arc-fault circuit breakers identified by the yellow reset button and outside receptacles are protected by GFCI breakers that have white reset button. Bathrooms have power outlets with a GFCI breaker built-in.
Garage is wired for both 120 and 240 volt. There are 15, 30 and 50 amp receptacles. There is also 240 volt, 50 amp GFCI protected receptacle at the back of the house.
Low voltage system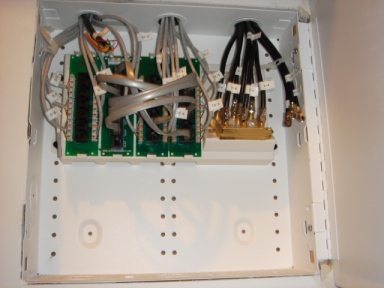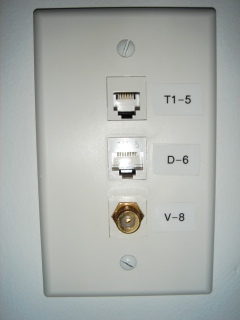 Communication panel
The Leviton communication panel allows computer network, phone and satellite TV wiring for every room in the house. All wires are clearly labeled and match the corresponding labels on the outlets.
"T" stands for Telephone and identifies phone lines.
"D" stands for Data and identifies a computer CAT-5e network capable of working at 10Mb/s, 100Mb/s or 1Gb/s speed.
"V" is for Video and therefore is for satellite TV.
Ventilation and Air Filtration System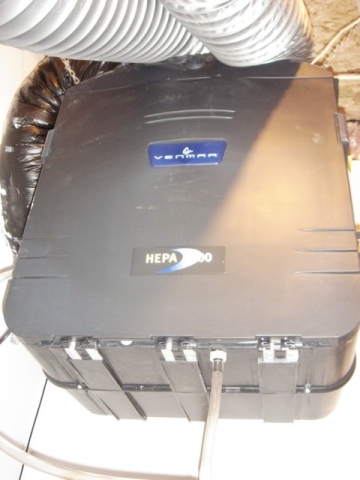 All house ventilation and air filtration system Venmar HEPA 3000
The system is desinged for houses of up to 3000 sq. feet. It exchanges and filters the air at 70 cfm in normal mode and at 105 cfm in boost mode.
A quote from the Venmar web site:
In addition to providing excess humidity control and heat recovery functions, it can also help reduce symptoms of respiratory ailments and allergies, thanks to its remarkable HEPA filter, which captures 99.97% of all dust and particles even those as small as 0.3 micron ( 1 human hair = 150 microns).
All rooms have ventilation registers built into the ceiling.
In the master bathroom there is NuTone 110 cfm fan and in two other bathrooms - 80 cfm fans. They are all super quiet models, 1.0 sone.
In the kitchen there is a Broan range hood fan vented outside that has 220 cfm and 1.5 sone when in high speed mode.