Plumbing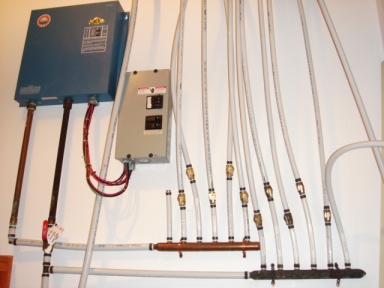 Cold and hot water plumbing is done using modern PEX tubing, which last forever with no maitenance. On the picture to the right besides the tankless water heater, you can see two 6-line distribution manifolds located in the utility room. One for hot, another for cold water. All a single line could serve multiple appliances, there is a valve on each line to shut down the entire pipe. All appliances have their own valves as well.
Discharge plumbing is done with usual ABS pipes of various diameters. There are two wet stacks that drain into the 1000-gallon septic tank and two main dry stacks vented through the roof. All discharge pipes have accessible clean-outs but there has never been any clogging.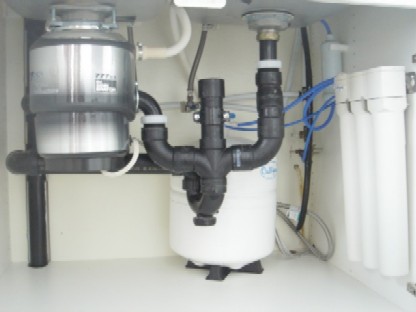 The picture to the left shows a powerful garburator and a Culligan Good Water Machine Drinking Water System installed under the kitchen sink.
As Culligan reverse osmosis system's filters become less efficient, they need to be replaced. Usually once a year or once in two years depending on water usage and water hardness. Usually, one needs to bring two samples of water (filtered and unfiltered) to Culligan and they will tell when it is time to replace filters.